Sponsored by the Greater Sioux Falls Chamber of Commerce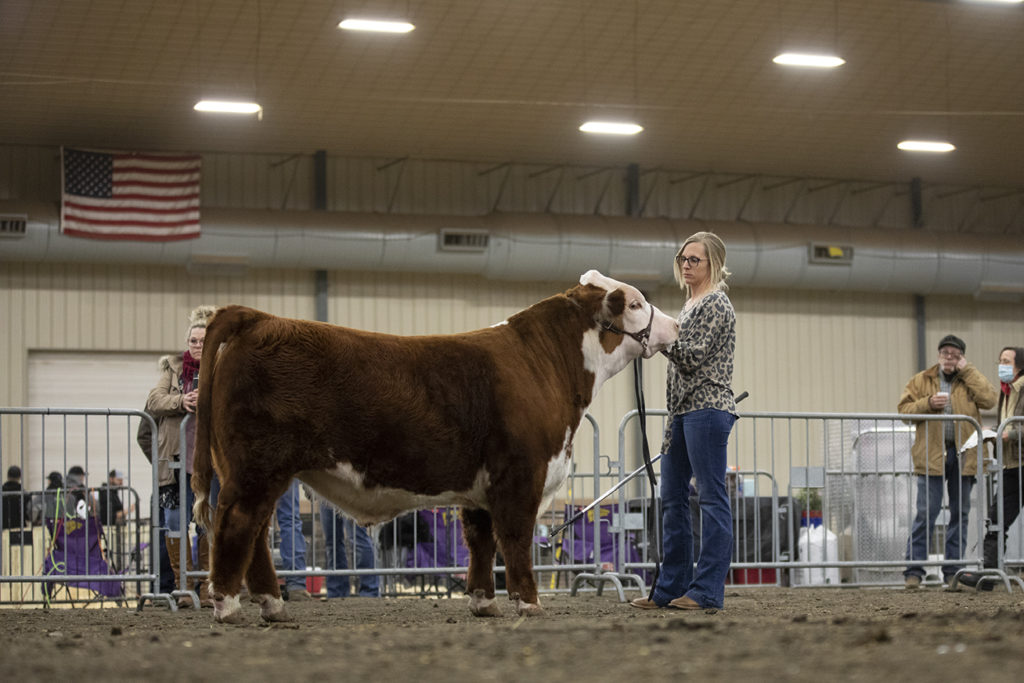 The Sioux Empire Livestock Show promotes and celebrates agriculture through an annual, authentic experience that educates and entertains the community; assists youth exhibitors financially with academic endeavors; and generates economic impact through national livestock consignments and trade show opportunities.
The low down on the Sioux Empire Livestock Show
The annual Sioux Empire Livestock Show is a great way for South Dakota's largest city to celebrate the state's number one industry, while recognizing the vital impact of agriculture in our lives.
The five-day Show features six purebred cattle shows and sales, with a $12,000 purse (sponsored by Tri-State Neighbor, The First National Bank in Sioux Falls and Runnings) that is split between the consignors and the buyers of the Supreme Champion Bull and Heifer, 4-H/FFA Invitational Calf Shows, open shows including Market Swine, Market Lamb, Market Goat, Market Beef, Feeder Steer, Feeder Heifer, and Breeding Heifer Shows, as well as livestock judging contests. Additionally, check out over 60 commercial exhibits and don't miss the Mayor's Round-Up & Sale of Champions!
Purebred Cattle Shows & Sales
Interested in consigning a bull or heifer in the Sioux Empire Livestock Show Purebred Cattle Shows & Sales?
The Sioux Empire Livestock Show (SELS) is proud to feature the 69th annual Purebred Cattle Show & Sale! New since 2021, we are welcoming an All Other Breeds (AOB) Show & Sale. If any breed consigns less than ten (10) head by the November 15th entry deadline, that breed will be transferred to the AOB Show & Sale. More details coming soon!
View the Purebred Cattle Guide
All the details you need to know to prepare for the purebred cattle shows and sales.
General Cattle Health Regulations:
A current, completed Certificate of Veterinary Inspection (CVI), listing individual animal official identification (official ear tag or registration tattoo accompanied by the registration certificate) must accompany all animals exhibited. The CVI must be issued within 30 days of entry. CVIs written for animals originating from outside the state of South Dakota must have a telephone import permit number listed on the certificate. Import permits are issued to the veterinarian completing the CVI and can be obtained by calling (605) 773-3321. Cattle originating from outside of the state may be subject to more requirements. Animal health import requirements can be found at http://aib.sd.gov/mainimport.html or call the SD Animal Industry Board at (605) 773-3321.
TRICHOMONIASIS: All non-virgin bulls must be tested negative within 30 days of the sale date. Approved testing methods include:
One negative PCR test conducted on a preputial scraping sample.
Three consecutive negative culture attempts of preputial scraping samples collected with a minimum of seven days between each collection.


The veterinarian issuing the CVI must certify that the bull has not bred since the start of the test and a copy of the test results must be attached to the CVI. Virgin bulls are exempt from testing. MAKE SURE IT IS STATED ON THE CERTIFICATE IF YOUR BULL(S) IS/ARE VIRGIN. Cattle must be free of any infectious, contagious, or communicable disease at the time of entry onto the Fairgrounds. If warts have been surgically removed, the scars must be healed by the time of exhibition. Semen check is required on all bulls 15 months of age, or older, as breed requires. We must have the DATES OF TESTS AND WHERE THEY WERE TESTED (name of lab and address) listed on CVI.
ALL INFORMATION MUST BE RECORDED ON THE CERTIFICATE OF VETERINARY INSPECTION TO ACCOMPANY THE ANIMALS ENTERED.
Purebred Entry - Closed
Deadline was November 15
Purebred Cattle Guide Rules & Regulations
Interested in consigning a bull or heifer in the Sioux Empire Livestock Show Purebred Cattle Shows & Sales? Review the rules and regulations for the shows and sales here.

$3,500 to consigner
$2,500 to buyer
of Supreme Champion Bull and Supreme Champion Female
Join us at the 2022 Supreme Row Social
Thursday, January 28 at 5 p.m.
The Supreme Bull and Supreme Heifer will be announced at the Social.
All Champions will be featured in a presentation at the Sale of Champions on Friday evening. At least one representative of the Supreme Champions, either the consignor or the buyer, should attend the Mayor's Round-Up and Sale of Champions dinner.
Enjoy light appetizers and beverages while socializing with cattlemen and cattlewomen from around the region.
Livestock Exhibitor Information
The Sioux Empire Livestock Show hosts purebred cattle shows and sales, 4-H/FFA invitational calf shows, and opens shows, including: breeding heifer, feeder heifer, feeder steer, market beef, market goat, market lamb, and market swine shows. Visitors are encouraged to watch exhibitors compete free of charge, Jan. 25-30.
Interested in being an exhibitor?
Purebred Cattle Shows/Sales Consignors – Entry deadline is November 15
All other Livestock Show Exhibitors – Online registration will be open through January 9, however late entries are accepted at check-in with a late fee
View the Exhibitor Handbook
All the details you need to know to exhibit your livestock.
Early online entries accepted through Jan. 9, 2022, at a rate of $10 per contestant. Pre-registration is closed.
Late entries accepted at check-in, with an additional late fee of $10 per individual contestant ($20 per individual contestant, if you register at check-in). ABSOLUTELY NO REFUNDS.
Sunday, Jan. 30, noon-12:45 p.m., Northside of Expo Building
You must be from the same county or school to count as a team.
The contest is open to youth/students who fit into the age divisions below. Contestants can judge on a team that is a division above their actual age division, however contestants are not allowed to judge in divisions lower than their actual age division.
Age Divisions:

Beginner: Age 8-10 on or before Jan. 1
Junior: Age 11-13 on or before Jan. 1
Senior: Age 14-18 on or before Jan. 1

Team competition: A team consists of four (4) individuals meeting the above requirements. Individuals may compete but will not be eligible for team prizes.
Counties or schools can bring as many participants as they want, however, the top 4 scores will count as the team total. There will ONLY be ONE team score for EACH county/school.
Substitutes on pre-registered contestants will be accepted the day of the contest.
| | | | |
| --- | --- | --- | --- |
| Entry Deadline: | Jan. 9 | | Online |
| Coaches Mtg./Check-In: | Jan. 29 | 4 p.m. | W.H. Lyon Fairgrounds Expo Building |
| Contest: | Jan. 30 | 8 a.m. | W.H. Lyon Fairgrounds Expo Building |
| Awards Presentation: | Jan. 30 | Following oral reasons | TBA |
Registration is closed!
Eligibility: Junior colleges and senior colleges in the U.S. are eligible to enter the Livestock Judging Contest. The entry form, however, must be signed by the official team coach, confirming that all members of the team are eligible to compete in the contest. Colleges can enter as many teams as they desire. To be considered eligible to compete, contestants must have attended full time at the school from which they are competing.
Participation: Each Livestock Judging Team will consist of five (5) eligible members and all team scores will count in the team total. Each team member, along with individual participants/alternates, will be eligible for individual overall awards in their division.
Divisions:

Junior College – Freshman – Contestants entered in this division must be enrolled in a junior college and cannot compete in this division more than two years.
Junior College – Sophomore – Contestants entered in this division must be enrolled in a junior college and cannot compete in this division more than two years.
Senior College – Contestants must be enrolled in a senior college.
Online entries are accepted through Friday, January 21, 2022. Photos will be posted on the SELS Facebook Page on Sunday, January 23. Voting Closes at 11:59 p.m. on Saturday, January 29. See below for rules and information.
Online entries accepted until 11:59 p.m. Friday, Jan. 23, 2022 at

pdejong@siouxfalls.com

 or by Facebook Messenger.

NO LATE ENTRIES ACCEPTED.
Include Lot Area Number (see below), Photo Name/Description, Exhibitor Name, Contact Info (email or phone number), and City & State (as you would prefer to be listed) with each entry.

Limit one photo per lot.

Cash awards and ribbons will be awarded to the top photo in each lot (not all entries will receive a ribbon/placing).

The one photo per lot that receives the most likes will receive awards.

One photo will be awarded an overall placing.

This photo will be the entry that receives the most overall likes.
Lot 1: Farm/Ranch Scene
Lot 2: Show Season
Lot 3: Farm Animals
Lot 4: Generations on the Farm
Purebred Cattle Show
& Sale Results
Open Livestock
Show Results
Senior Collegiate Livestock
Judging Results
Junior Collegiate Livestock
Judging Results
Barn hours are 5 a.m. – 11 p.m. daily. Click here for a printable schedule. Schedule subject to change.
| When | What | Where |
| --- | --- | --- |
| Tuesday, January 25 | | |
| Noon - 5 p.m. | Purebred Cattle Shows Check-In | South side of Expo Building |
| 1 - 3 p.m. | 4H/FFA Invitational Calf Show Check-In | Grand Falls Casino Ring |
| 4:30 p.m. | Welcome to Sioux Falls kickoff party | Backdrop area |
| 5 p.m. | 4-H/FFA Invitational Calf Show | Grand Falls Casino Ring |
| | | |
| Wednesday, January 26 | | |
| 8 a.m. | Simmental Show | Big Country 92.5 KTWB Ring |
| 8 a.m. | Hereford Show | Grand Fall Casino Ring |
| 9 a.m. | Angus Show | Big Country 92.5 KTWB Ring |
| 9 a.m. | Limousin Show | Grand Fall Casino Ring |
| 10 a.m. | All Other Breeds (AOB) Show | Grand Falls Casino Ring |
| 9 a.m. | Trade Show Opens | North side of Expo Building |
| 1 p.m. | Simmental Sale | Sale Ring |
| 2 p.m. | Angus Sale | Sale Ring |
| 2:30 p.m. | Hereford Sale | Sale Ring |
| 3:00 p.m. | Limousin Sale | Sale Ring |
| 3:30 p.m. | All Other Breeds (AOB) Sale | Sale Ring |
| 4 - 6 p.m. | Market Swine Show Check-In | Smithfield Foods Ring |
| 5 p.m. | Trade Show Closes | North side of Expo Building |
| | | |
| Thursday, January 27 | | |
| 8 a.m. | Market Swine Show | Market Ring |
| 8 - 10 a.m. | Market Beef Show Check-In | Grand Falls Casino Ring |
| 9 a.m. | Trade Show Opens | North side of Expo Building |
| 1 - 3 p.m. | Prospect Calf Show Check-In | Behind backdrop area |
| 3 p.m. | Market Beef Show | Big Country 92.5 KTWB Ring |
| 3 - 4 p.m. | Market Lamb Show Check-In | Smithfield Foods Ring |
| 5 p.m. | Trade Show Closes | North side of Expo Building |
| 5 p.m. | Market Lamb Show | Smithfield Foods Ring |
| 7:30 p.m. | Supreme Row Judging | Big Country 92.5 KTWB Ring |
| 8 p.m. | Supreme Row Social | Sale Ring |
| | | |
| Friday, January 28 | | |
| 7 - 8 a.m. | Market Goat Show Check-In | Smithfield Foods Ring |
| 8 a.m. | Prospect Calf Show | Grand Falls Casino Ring |
| 9 a.m. | Market Goat Show | Smithfield Foods Ring |
| 9 a.m. | Mini Trade Show Opens | North Side of Expo - Enter Through East Doors |
| 11 a.m. - 2 p.m. | Breeding Heifer Show Check-In | Behind backdrop area |
| 4 p.m. | Mini Trade Show Closes | North Side of Expo - Enter Through East Doors |
| 5 p.m. | Social | North side of Expo Building |
| 6 p.m. | Mayor's Round-Up & Sale of Champions | North side of Expo Building |
| | | |
| Saturday, January 29 | | |
| 9 a.m. | Mini Trade Show Opens | North Side of Expo - Enter Through East Doors |
| 10 a.m. | Breeding Heifer Show | Big Country 92.5 KTWB Ring |
| 12 p.m. | Mini Trade Show Closes | North Side of Expo - Enter Through East Doors |
| 4 p.m. | Collegiate Livestock Judging Contest Coaches Meeting | North side of Expo Building |
| | | |
| Sunday, January 30 | | |
| 7:30 a.m. | Collegiate Livestock Judging Contest Announcements | Expo Building bleachers |
| 8 a.m. | Collegiate Livestock Judging Contest | Expo Building |
| Noon | Collegiate Livestock Judging Contest – Reasons – Awards & Official Reasons to Follow | TBA |
| 12 - 12:45 p.m. | 4-H/FFA Livestock Judging Contest Check-In | North side of Expo Building |
| 1 p.m. | 4-H/FFA Livestock Judging Contest | Expo Building |